A new built in Magnifier is here!  iOS 10 launched officially to Apple users on September 13, 2016.  With iOS 10 there are new accessibility features noteworthy to highlight and recognize.  With each update, Apple continues to enhance and expand the accessibility options designed to make iPhones and iPads valuable to all, especially for those who may have unique usage needs.
In this blog, I will cover the iOS 10 Magnifier.  The Magnifier accessibility feature actually turns the iPhone and iPad into a magnifying glass.  Users with low vision can now use the camera on their device to magnify small print or snap a photo to get a static close up of a small item.
Here is how it works: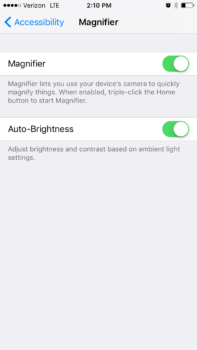 Go to Settings > General > Accessibility > Magnifier.  Turn on the Magnifier and the Auto Brightness features, then exit out of settings.
Once the Magnifier has been enabled, triple press the Home button to activate Magnifier.
Magnifier offers several controls for users to adjust how the images are viewed.
Tap, hold and drag the slider to adjust the zoom level (or you can pinch in/out on the screen).
To lock the focus, tap the padlock icon (bottom left of screen) to allow moving the device within the same focus range.
Tap the lightning bolt icon (bottom left of screen) to provide more light and additional illumination.
Tap on filters icon (3 circles together, bottom right of screen) to manually adjust the brightness (top slider) and contrast (bottom slider) of text.  The available filters include: White/Blue, Yellow/Blue, Grayscale, Yellow/Black and Red/Black.  To reverse the colors, tap on the invert button (bottom left of screen).
This is just one of the new Accessibility Features that is turning mobile devices into powerful tools to assist with day-day activities.  I am convinced that the Magnifier will indeed be a versatile feature to have available for all!