Low vision products help individuals with vision impairments.  But with so many types and varieties of low vision products to choose from it is important to concentrate on the specific needs you have for a magnifier.
The Optelec Traveller HD is perfect for those looking for a portable, lightweight video magnification device to read printed text in multiple locations.  This device fills the gap between hand-held electronic magnifiers and desk top video magnifiers.  The Traveller HD folds flat, is thin & lightweight and comes with a small carrying case to allow for use room to room, location to location.  Perfect for on-the-GO reading with no limiting cords!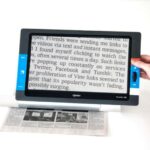 This unique video magnifier provides a slide and read mechanism, allowing a simple and steady flow over flat documents such as letters, bills, newspapers, photos, etc.  To read vertically, the roller allows the unit to move up and down over the document with ease.  To read and navigate horizontally, the screen can be moved from left to right and from right to left allowing one to follow a straight line within the text (base of unit does move).
Its 13.3 inch wide-screen with variable zoom provides magnification starting at 2.5 times all the way up to 30 times.  The large screen makes it easier to read more text and read even more fluently.
The Traveller HD is easy to use and operate.   The device will power on when opening the unit and will power off automatically when closing the Traveller HD.  When the unit is powered on, it will automatically start with the previous settings used.
Other Key Features:
No need for cords. Comes with a rechargeable 3 hour battery.
Magnification Wheel to adjust the magnification by scrolling up to zoom in and scrolling down to zoom out. Can be used from the front or back of the unit.
4 Viewing Modes that will display in:
True Color
Black text on white background.
White text on black background.
Yellow text on black background.
Snapshot function to save up to 1000 images.
Reading Line to help position the Traveller straight on the document.
Menu Button:
Allows to adjust the brightness of the display.
Personalize color contrast.
Enable/disable sounds (feedback tones),
Enable/disable the object lighting.
This video magnifier retails for $2,495.00.
The only downfall of this product in contrast to desk top CCTVs or other video magnifiers is that you are not able to write on paper underneath the camera on the Traveller HD.
To get more information visit Optelec or ND's authorized  dealer, The Low Vision Store for Optelec's visual aids.
Contact Assistive to explore this assistive device or other devices for low vision reading at 800-895-4728 or visit Assistive on the web www.ndassistive.org