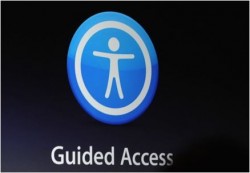 The guided access accessibility feature is not new to iOS but it received some nice updates with iOS 8. If you are not familiar with guided access it is an accessibility feature that when turned on keeps the iPad, iPhone, or iPod touch in a single app, with the ability to mask out areas of the screen to limit the use of the app. Users that find this helpful are those that have a difficult time concentrating on one task and may be distracted by other applications on the device. For instance an individual who may benefit from a reading and writing app like iReadWrite.  Another guided access use could be for an individual with memory challenges. By masking only the items that are needed the user can be more successful. Let's take a look at how this works.
So now you know how to get guided access set up but some of the new features make this even better than before because of the ability to add time limits. The idea behind this is that you can have guided access working for any amount of time you choose. Guided access can also notify the user how much time is remaining before they can move to another app, giving the user motivation to stay on task.  Here Luiz Perez does a nice job on how to set up the time limits and the options it allows for.
Let other users know how you use guided access by sharing your story.