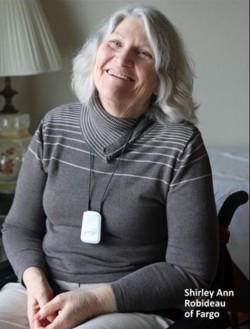 In the early 1980's, I was diagnosed with Retinitis Pigmentosa.  I had never heard of the term and was terrified when the doctor said, "You are going to go blind." I tried to find out as much as I could about RP but there was not enough information about it at the time.  My vision deteriorated very slowly at first, almost to the point that I convinced myself that it was not true.  However, by 2011, I was faced with the reality that I indeed was going blind.  Vision would drop more rapidly and by 2014 (approximately) enough of my vision was gone that my very low hearing was giving me extreme problems because I could no longer see people's faces to be able to lipread.
I had multiple problems popping up that I had never anticipated.  I had Polio when I was one and a half years of age. This resulted in using braces and crutches most of my life. Then in 1984 I went into a wheelchair permanently.  I was able to handle any situation that would come up but this new physical challenge was almost more then I could bare.  I went to several organizations seeking help to learn how to continue my independence, but no one knew how to give me any real direction; the services in ND were so limited.
So here I was about 67 years old and not ready to give up but I was not sure which way to turn.  I didn't even know anyone that was deaf-blind to help me learn. I met Trish at IPAT (Now called ND Assistive) a few years ago when I lived at New Horizon's Manor in Fargo, ND.  I had applied to get a grant to purchase a iPad.  I was able to use this to continue reading the Scriptures, song book, and other books I was interested in at that time, but I didn't really know how to use it to its full capacity. There was no program or individual that could teach me how to use it.  I began to become depressed with what was happening to me.  I couldn't hear on my phone, I couldn't see people's faces to know who was talking to me without asking who they were.  I was beginning to be afraid to leave my apartment by myself and so on.
I am a very active member of The Church of Jesus Christ of Latter-day Saints and would go to Church on Sundays and not be able to hear enough to make out what the talks were about.  People walked up to me and would greet me, I didn't know who they were, I couldn't see the little children and that was so hard on me.  Then came the day I could not even read my extra-large print of the hymn book.  I totally lost it.  I came home each Sunday and would cry.  My world was getting smaller and smaller.  I began to stay home from many activities and would hesitate to go to doctors or other appointments because of lack of understanding what was being said to me.
I received my first ComPilot, I believe in 2013 and began working again with Trish from ND Assistive.  I had thought that ND Assistive was a place just for renting out equipment but, Trish began helping me to get several different types of adaptive technology to help me in my home.  I received an alarm that vibrates on my bed to wake me up in case the fire alarm went off, my phone would ring, or my alarm clock went off.  I was so grateful for this organization for helping me.  They also helped me to get transfer poles for by my bed and toilet for easier, safer transfers.
ND Assistive helped me to get a ComPilot so I could hear and understand what was being said to me on the phone.  I had a flip phone at this time and it was giving me a lot of trouble. I talked with Trish and she made contact with President Milton Ota of the National Federation of the Blind.  President Ota is the President of the North Dakota Group of the Federation.  Trish asked him who she could talk to about training me to use an iPhone.  In the meantime, since I didn't know she was looking for someone to train me, I went and charged an iPhone on my phone bill.  I tried to figure out how to use it and gave up, returning the phone.  Another part of my independence was being taken away from me. I was no longer able to set up appointments, answer calls, etc.  Now I not only couldn't hear and communicate with my friends at Church but now I couldn't communicate by phone either.  I felt like piece by piece my life was being taken away from me.  Then Trish called to ask if I would like training with an iPhone.  I excitedly accepted and Jesse Shirek, Assistive Technology Instructor,  began training me how to use an iPhone. Later he taught me how to use JAWS which is a program that reads the computer aloud for me.
In the meantime, just prior to meeting Jesse, I had gone to a support group for the Deaf and learned about the Cochlear Implant.  My Audiologist strongly suggested that I talk to Dr. Miller about whether or not I would be a candidate for an implant because I was losing my vision and needed some other help to communicate.  I had the surgery June 22, 2015.  The results of the implant totally blew my mind.  I had used hearing aids all my life but this can't compare to that.  It took well over six months for me to be able to understand what I was hearing.  As I continued to progress, however, to be able to hear sounds I have never heard in my life began to give me a glimmer of hope.  I was beginning to want to climb out of this tiny world I had been boxed into for the last few years and come alive.
The lessons with the iPhone and JAWS has opened up a whole new world in my life that I didn't know was possible.  I wasn't able to keep track of my appointments because I couldn't see to write things down.  Now with the iPhone I can email, send text messages, listen to my favorite radio station, Mormon Channel, and hear it though my ComPilot, hearing aid and Cochlear Implant.  How awesome is that? It doesn't stop there, I also joined the National Federation of the Blind, going out to events again, going to seminars or other events to learn more, who knows, I might go back to school! On top of all of these blessings, I am meeting new people and they are giving me more confidence in myself and my abilities. The National Federation of the Blind members are great support for me.
There are many more opportunities available to me now then I had ever known before and I am so grateful to ND Assistive and the National Federation of the Blind for the doors they are opening up for me.  The National Federation of the Blind is not just for the blind but for everyone who has an interest in learning more that is available to the blind.  Whether you are blind, have a visual limitation or know someone that is visually limited you can join the Federation by contacting President Milton Ota at 701-731-0511. For more information on North Dakota Assistive, please contact 701-365-4728. To contact Jesse Shirek, Assistive Technology Instructor, call 701-781-2526 or email jesseshirek@gmail.com.