When spring rolls around, keep an eye out for this sweet lady proudly cruising the streets of Williston in her Sassy red electric scooter!

Having the independence to drive ourselves to and from anywhere we want is something we often take for granted until our vehicle is in the shop, and we have to rely on others for a ride. At ND Assistive, we are dedicated to helping others attain or maintain independence.

At the age of three Sheryl Beard was diagnosed with cerebral palsy which affected her muscles and her ability to walk. She's worked hard to do what she can to lead an independent life. She works five days a week at Opportunities Foundation in Williston. During the warmer seasons she rides her open electric scooter to/from her work which is approximately 1.5 miles from their home. However, in inclement, windy or rainy weather she has had to rely on her husband or public transportation. Sheryl's husband, Steve wanted Sheryl to have the same independence regardless of the weather, so he did some research and found the Q-Runner Electric Transport and was impressed with the features and ease of operating.

Last year the Beards applied for a loan through ND Assistive's Financial Loan Program and a Possibilities Grant. The couple was approved for the loan and Sheryl qualified for the grant which helped offset the cost of the scooter by $2,000.

Two ND Assistive programs provided the resources for Sheryl to obtain this scooter.
Possibilities Grant
ND Assistive's Possibilities Grant is a last resort grant for people who are impacted by a disability and/or aging to purchase assistive technology devices and services that are not covered by their private insurance or other public funding avenues. Money raised during Giving Hearts Day has been the main source of funding for this program.

ND Assistive's Financial Loan Program
ND Assistive's low-interest Financial Loan Program provided a loan for the remaining cost of the scooter. Qualifying individuals with disabilities can receive guaranteed financial loans at a 2% fixed interest rate to make it easier to get the AT they need. Loans offer flexible repayment terms to make payments financially affordable.

You may have seen Global Electric Motorcars (GEM) driving around commercial resorts, college campuses, national parks and even patrolling large parking lots. These electric motorcars are street legal, easy to maneuver and they don't require the operator to have a driver's license. But this Q-Runner electric scooter is the first of its kind in the city of Willison, ND. Sheryl said that she has always wanted to own and drive her very own car and she feels that her new electric scooter that she and her coworkers have proudly named Sassy, fulfills that dream for her.

When I spoke to Sheryl about her Q-Runner electric scooter, I could hear the enthusiasm for this life changing purchase. She said "I would like to thank North Dakota Assistive for helping me get my Q-Runner Electric Scooter. I really enjoy driving around back and forth to work. It also gives me my independence to have the freedom to come and go. I use the bus to get back and forth to work in the winter, but I use my scooter all summer long into the fall. It is a two-seater as well, so my husband can ride back there, or I have room to carry my groceries."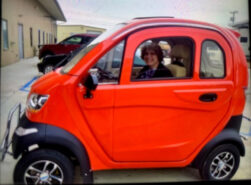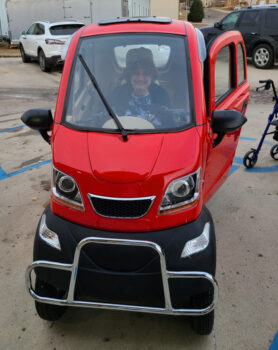 Green Transporter Q Runner Electric Transport

Giving Hearts Day is Thursday, February 11th
Please remember ND Assistive on Giving Hearts Day. ND Assistive accepts tax deductible donations to help people like Sheryl acquire what they need to become independent. You can donate here to the Possibilities Grant fund.

If you know someone who could use help obtaining funds to purchase equipment to help them obtain independence, applicant information for both programs are available on our website at https://ndassistive.org/ or contact us at 1-800-895-4728 or info@ndassistive.org if you have any questions.