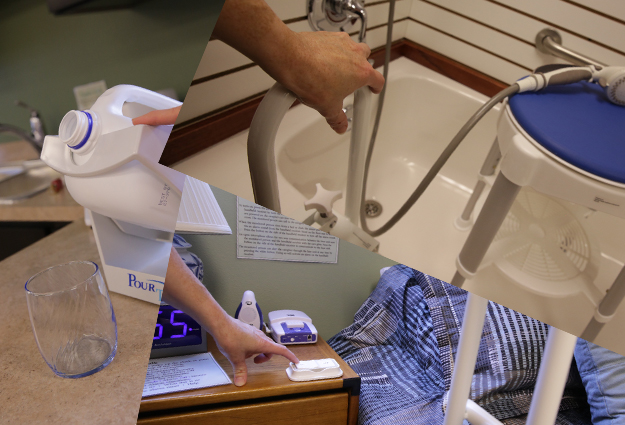 We have been working on something at IPAT for months now and we are ready to show it off……our new Home First Showroom! Join us on Friday, October 18, 2013 from 11am-2pm for an Open House at IPAT in Fargo-3240 15th St. South.
The Home First Showroom is a "real home" environment where people of all ages can explore and try out different types of AT devices to help themselves or someone they love stay safe and active in their homes.
How many of you have lived this scenario or something similar:
"My parents want to stay in their own home but I worry about them. Mom forgets to take her medication. Sometimes she leaves the water running in the tub and it overflows. Dad has trouble seeing when he pays their bills. Neither of them can hear on the telephone without me yelling. I just don't know what to do."
Many similar scenarios are often shared with IPAT staff. The first option does NOT have to be a move away from the home you have loved for years. There are AT devices available to compensate for losses in vision, hearing, speech,mobility and memory and the Home First Showroom displays them all.
A visit to the showroom will give you the opportunity to relax in a living room where you can tryout devices to help you hear the TV, or change channels. The devices are actually hooked-up so you can determine for yourself if/how they work. You can sit in a lift chair, check out a magnifier while paging through a magazine, or use a couch cane to see if it helps you get up. This is just a sampling of what AT is available in the living room area.
There are lots of options to explore as you visit the bedroom/memory room setting. Voice activated TV controls, talking clocks, adapted lamp switches, wandering alerts, and closet organizers to name a few. Check out the safety features of the bed, and enjoy all the gadgets available to help you read, dress and engage in recreational activities.
Need ideas for safety options within the bathroom? The Home First Showroom is a great place to start! You will find devices to help you squeeze a tube of tooth paste or hold a hairdryer and fix your hair while using only one hand. Special medicine dispensers, bath chairs, shower seats, toilet accessories and a variety of grab bars are also on display.
Wait until you see the kitchen – pull down shelves, drawers with built-in organizers, and sink access are all part of the design! Within the cupboards you will find many unique tools to help open cans, hold items while cutting, and do other kitchen tasks. You can sit at a table and check out some unique dishes and silverware that may help someone to continue to eat independently.
Most people have a need to write checks and conduct the business of running their household. Enter the den/home office to check out the different types of telephones, vision equipment to help you read your mail, simple writing tools to help with arthritis or tremors, and much more.
So are you excited about the possibilities? Then join us on the 18th! If you cannot make it during that time, give us a call to schedule a time that works for you-1-800-895-4728. We would love to see you there!