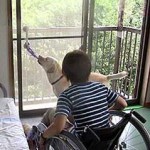 Service and companion dogs can be the bridge to increased independence for people with disabilities, consequently their use is upheld in three federal laws. The 1986 Air Carrier Access Act, 1988 Fair Housing Amendments Act and 1990 Americans with Disabilities Act. The latter two uphold the rights of a tenant with disabilities requiring such a dog, and those of a landlord when renting to such a tenant.
IPAT fields questions from both tenants and landlords specific to their rights and responsibilities when a service or companion dog is part of the rental package. Our first question is to ask if the use of the dog meets the definition of 'reasonable accommodation' under the Fair Housing Act.
To help them answer this query,  IPAT shares the document, Guide to Requests for Reasonable Accommodations Related to Animals Needed for those with Disabilities, and links them to the High Plains Fair Housing Center located in Grand Forks, North Dakota. They created the Guide, and serve as a resource for all state residents with fair housing concerns. In addition, we note that the North Dakota Housing and Finance Agency has a one page fact sheet, Service and Companion Animals that residents may also find helpful in clarifying this question.
The type of service dog and companion animal has expanded greatly since Seeing Eye, Inc. was established in 1929 to train dogs for those with visual impairments. Here is a brief primer of those currently recognized:
Guide Dogs/Seeing Eye Dogs, assists/guides those with vision loss
Hearing Assistance Dogs, alerts those with hearing loss to noise, alarms, phones, doorbells
Seizure Awareness Dogs, recognizes aura and alerts owner of an impending seizure
Diabetic Awareness Dogs, recognizes change in breath and alters owner prior to possible diabetic comma
Mobility Dogs, alerts to needs of individual with mobility loss; fetches, guards, opens doors
Companion Animal, provides emotional support and comfort to those with intellectual disability, anxiety, PSTD, depression
To learn about the power of a service dog first hand, check out this IPAT blog highlighting Rudy!