Desktop video magnifiers are one of the great assistive technology solutions for those with a vision impairment. The price for these devices can be cost prohibitive in that they usually start at upwards of $2000. The iPad has opened the door for many individuals to have a powerful magnifying device that is also portable. I'm going to show you how to turn the iPad into a desktop video magnifier by constructing a simple stand and connecting the iPad to a TV for under $90.
Items needed for the stand: (click images for greater detail)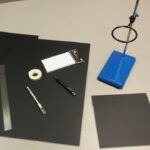 Foamboard- $5
Mounting Tape- $5
Exacto Knife- $3
Ruler- $1
Support Ring Stand– $25
Foam Sticky Squares- $2
The setup begins with cutting out a 9″ x 9″ piece of foamboard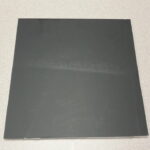 Affix mounting tape to the ring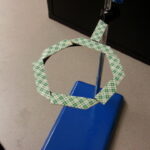 Apply Foam Sticky squares to the cut out foam board to provide a visual way to align the iPad for use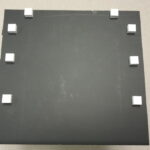 Place the foam board on the ring stand and firmly press together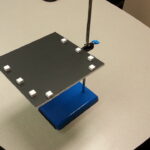 The stand is now ready to use. By placing the iPad into the stand the camera of the iPad should hang over the edge of the foam board. The next step is to connect the iPad to a TV. You will need a Digital AV Adapter (either 30 pin or lighting depending on your version of iPad) and a HDMI cable, $40 and $5 respectively.  Once the connection is complete, adjust your TV to the appropriate input and you should see the iPad screen displayed on the TV (see above).
To be successful with this setup you can use a variety of apps. The first option may be to simply use the camera app that is installed on the iPad. By taking a picture, and then viewing and magnifying by way of pinch gestures, this may be all someone needs. There are several other options for magnification  that may provide needed options like color contrast and even optical character recognition that will read text.
Contact IPAT for questions about the stand setup or if you are looking for strategies or apps to help in the use of the iPad for low vision.