A variety of computer users have come to IPAT's Technology Access Centers with an inability to use a standard mouse. The reasons have been many; shoulder pain when reaching to use a mouse, the reliable use of only one finger on one hand, lack of stamina over time to manipulate and click a mouse, and arthritis of the hands.
For these individuals with limited hand, finger or arm movements, the numeric keypad, found on most keyboards, turned out to be an excellent mouse alternative. Best of all the solution is readily available, and FREE!
To use the arrow keys on the numeric keypad as a mouse
Click "Start" then  "Control Panel" and  follow these steps:
Within Control Panel open Accessibility Options or Ease of Access
Click the Mouse tab
Check the "Use Mouse Keys" check box
If you wish to increase the speed or change any other settings, click on the Settings button
Click Apply and then close out of the box
The graphic identifies the numeric keypad and key functions when it is used as a pointing device.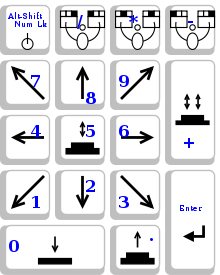 Num Lock with Alt-Shift –  enables/disables mouse keys
8 – cursor up
2 – cursor down
6 – cursor right
4 – cursor left
7 – cursor up and left
9 – cursor up and right
3 – cursor down and right
1 – cursor down and left
/ –  select primary button
* –   select modifier button
– –  select alternate button
5 – click selected button
+ –  double click selected button
0 – depress selected button
. –  release selected button
Enter – Enter Key
Be a problem solver, offer this simple solution to someone you know having trouble with a standard mouse – it may be just the answer they need.